LEV'01 ontwerpt met aandacht voor kwaliteit en comfort. Het hoogwaardige en duurzame product vilt is bij de oprichting van het label LEV'01 het uitgangspunt en de bindende factor. LEV'01 kiest met zorg de producenten en combineert kwaliteit met verantwoord ondernemen.
De kwaliteitswol wordt in Finland geverfd en vervilt, naar een eeuwenoude traditie. De hakken en zolen worden door een Portugese producent geleverd en ook geassembleerd. De maatwerk schoenen en leesten zijn de specialismen van deze onderneming, waarmee LEV'01 comfort en kwaliteit garandeert.
Onderhoud:
LEV'01 is van hoogwaardig 100% wol en plantaardig gelooid leer gemaakt. De lerenzool is beschermd door een rubberen antislip zool. De hakken zijn gemaakt van gerecycled hout.
De wolvilten laars behoeft verder weinig onderhoud. Wol weert van nature vuil, water en sneeuw. Wanneer de laarzen toch vochtig zijn geworden, is het aan te bevelen om de laars te vullen met papier en hem in de juiste vorm bij kamertemperatuur te laten drogen. Vermijd directe warmtebronnen. De laars kan opgeborsteld worden met een zachte borstel.
's Zomers is het verstandig om de laars op een donkere plek, bij kamertempertauur, op te bergen. Let op voor motten en insecten. Om motten te weren, gebruik lavendel, gedroogde laurierblad of cederhouten mottenballen.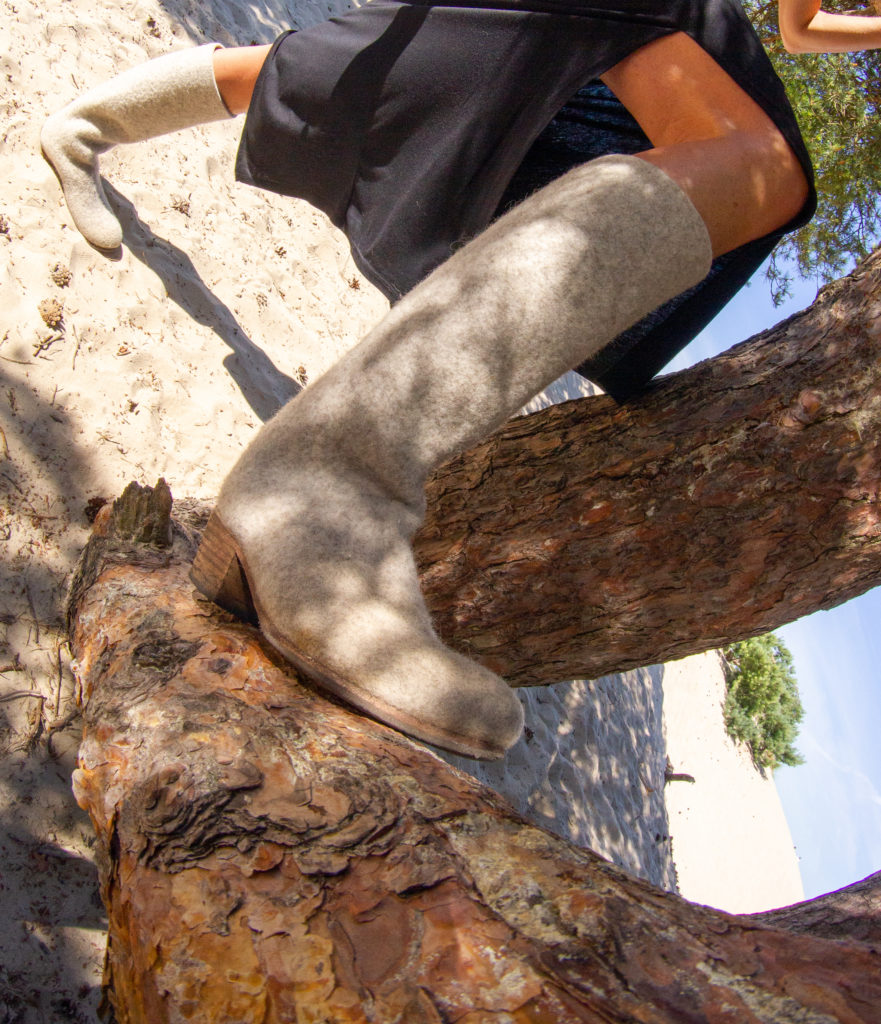 Voor directe levering aan klant, neem contact op via contact formulier.
---
English
LEV'01 designs with attention to quality and comfort. The high-quality and durable material felt was the basis in the creation of this label and binding factor. LEV'01 chooses carefully its manufacturers and combines quality and responsibility.
Quality wool is dyed and felted in Finland, to an ancient tradition . The soles and heels production is carried out by a Portugese producer. The custom-made shoe and lasts are the specialties of this company, which guarantees LEV'01 comfort and quality.
Maintenance:
The LEV'01 is made of 100% high quality wool and vegetable tanned leather. The leather sole is protected with a rubber anti-slip sole.
Felt boots do need little maintenance. Wool naturally repels dirt, water and snow. If the boots are still damp, it is advisable to fill the boot with paper and let it dry into the right shape at room temperature. Avoid direct heat sources. The boot can be brushed up with a soft brush.
In summer it is wise store the boot in a dark place, at room temperature. Watch for moths and insects. To avoid moths, use lavender, dried bay leaf and cedar mothballs.
For direct deliveries, please contact us via the contact form.