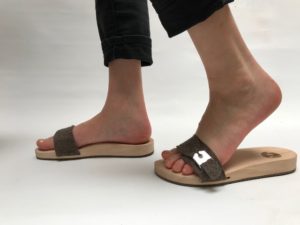 LEV'01 is een klein fashion schoenen label dat op duurzame wijze produceert, het eerste model is de tijdloze vilten laars. Het natuurlijke materiaal, schapenwol biedt warmte en is ook nog stevig en sterk. Het wolvilt weert van nature vocht en vuil.
Het ontwerp LEV'01 zorgt ervoor dat de wol vilten schacht met de plantaardig gelooide leren zool en houten hak samensmelten tot een eigentijdse en tegelijkertijd tijdloze laars.
LEV'01 kenmerkt zich door eenvoud en elegantie en combineert dit met kwaliteit en comfort. Aandacht voor ambacht, design en materiaal maken het onderscheid. Na de laars uit 2015 zijn de klompjes 2016, de kleppers 2017 en de sneakers 2019 aan de collectie toegevoegd.
The first model of LEV'01 is a robust timeless boot that is also elegant. Its natural material woolfelt provides comfort and warmth and is also sturdy and strong. Wool naturally repels moisture and dirt. The design LEV'01 ensures that the felt upper with contemporary sole and heel coalesces into a modern boot.
LEV'01 is characterized by simplicity and elegance, while providing quality and comfort. Attention to craftsmanship, design and materials make the difference. After the boots from 2015 the clogs 2016, the slippers 2017 and the sneakers 2019 have been added to the collection.